Plants are great gifts for anyone who loves greenery in their homes. You may have a friend or two who are self-proclaimed plant parents (or maybe it's you). Whatever their deal with plants is, their birthday or Mother's Day is most likely coming up, and you need ideas on plant-lover gifts.
So here are some ideas on what to get your friend who loves plants.
Succulent gift boxes are a great gift for any cactus lover
Cacti make succulent gifts. They are easy to tend, durable in dry conditions, and are pretty darn cute. If you have a friend who has a thousand cacti in different pots around the house, then why not give them a thousand more with a succulent gift box? You can include different types of cacti, succulent wreaths, or air plants. Your gift box is what you make it. You don't need any specifics, just don't let it succ!
For the friend who prefers to get high off plants instead…
Additionally, if your plant-loving friend prefers to smoke or eat them rather than water them, then maybe Delta North's Delta-8 gummies are the perfect gift for them. Delta-8 gummies are edible THC gummies that give a soothing and relaxing high with none of the side effects smoking or vaping bring. It also is a great alternative to tinctures that may be messy or not their type. Delta-8 gummies come in different flavors like watermelon and blue raspberry—delicious to any taste bud.
Terrarium candles will add a sweet touch to their home décor
Another gift for your plant-loving friend is terrarium candles. These candles are the perfect gift for people who enjoy lighting scented candles that also look absolutely adorable in their home as decoration. They come in different shapes like succulents and poppies and are made of soy wax. They are hand-poured and produce fragrances like jasmine, vanilla, and white tea. Light up your plant-loving friend's life with a cute terrarium candle today.
Succulent stud earrings are ideal for any plant-loving fashionista
Moreover, if your friend loves greenery or succulents for that matter, then buying them a pair of succulent earrings from Etsy will be the hit of the night. These delicate earrings go perfectly with any accessories and make for a cute and fun ice breaker at any party. If your friend loves fashion as much as they love plants, then this gift is just for them.
A smart garden will let them grow delicious plants in their own kitchen
For the organic cuisine enthusiast in your life, this smart garden from Amazon might do the trick. If they love plants and cooking, this smart garden is bound to bring some flavor into their lives. This garden will allow them to make scrumptious food using fresh ingredients straight from their kitchen. It already comes with basil plant pods so they can kickstart their cooking. However, you can buy them any other pre-seeded pods for rosemary or cilantro, for example, so they can use it with their new garden. It's the ideal gift for anyone who loves plants as much as they love cooking.
Plant mugs are perfect for plant lovers who also enjoy coffee or teas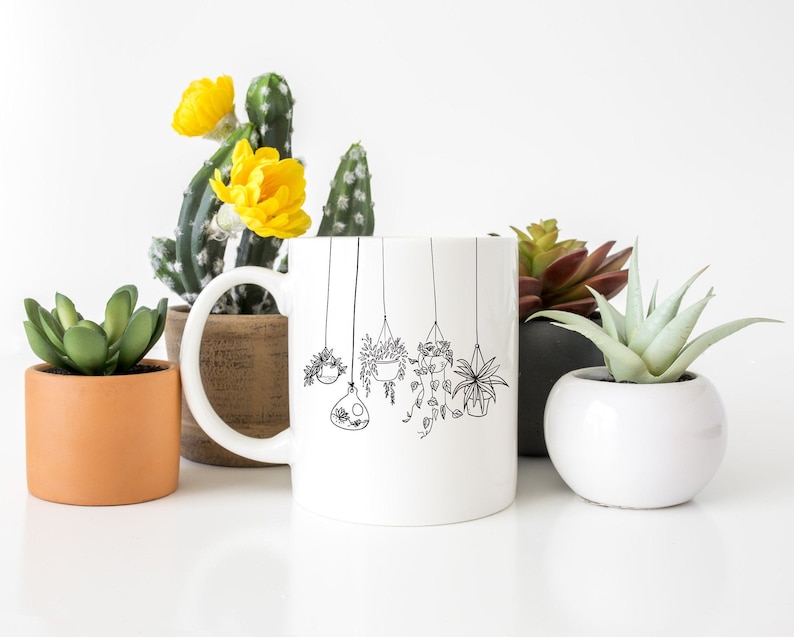 If your plant-loving friend also likes to sip on their daily cuppa joe, then a plant-themed mug is the way to go. You can even pair this gift with a succulent or pre-seeded plant pod so they can use the mug as a decorative pot. So give your friend a fresh way to drink their tea or plant their newest succulent. Besides, you can never go wrong with a mug.